Being overweight is not something new that you have never heard of before. It has been a problem since ages. The only thing that has changed over the years is increasing numbers and different strategies introduced to overcome it. Lets discuss here for Follow Our Keto Diet Plan To Maintain Healthy Weight
There was a time when people were aware of what to eat and had enough time to spend in their kitchens. With time, things changed, people became busier, and lives messier! Changes in eating habits made people less aware and resulted in the increased number of overweight people. However, there are many more things to be considered.
Each coin has two sides, they say. Something similar happened in this case as well. With the cases of obesity continuously increasing, the scientists developed many strategies such as Low-carbohydrate diet, Atkins diet, Veganism, Keto diet, Very-low-calorie diet, Calorie restriction, Whole30 diet, Gluten-free diet to maintain healthy weight with the Ketogenic diet being the most preferred one.
In this article, I will be discussing everything that you need to know about the Ketogenic Diet, or the Keto Diet.
What is Keto Diet?
A keto diet is a high-fat diet that contains high amounts of fat, moderate quantity of protein, and carbs in very low quantity. There are many versions of this healthy diet available, which I will discuss further, but a standard version is supposed to be the most effective.
While following a keto diet plan, it is advised to keep the amount of carbs as less as 50 grams as the diet is focused on burning fat for energy. Unlike the normal diets that contain carbs in high amounts, a keto diet is rich in healthy fats. The next big proportion of the diet is contributed by protein from different sources that is kept around 20% and carbs around 5%.
The reduced carbs support your body in switching to fats for its energy requirements. This state is known as ketosis. Ketosis plays an important role in maintaining an ideal body weight.
In ketosis, your body relies on ketones produced in your liver as an alternative source of energy when it doesn't get carbs in sufficient amounts. Usually, we avoid fats due to being high in calories. However, research tells a completely different story. According to the research, following a keto meal plan can accelerate the process of weight loss and offers better results as compared to the low-fat diet.
Furthermore, this diet, that shares lots of similarities with the low carb diet and the Atkins, makes you feel full and suppresses appetite which plays an important role in burning fat without a hassle.
Keto diet foods can also cause significant impact on insulin and blood sugar levels. People dealing with these medical conditions should give it a try. However, it is always recommended to consult a physician before adding a new diet to your routine.
Types of Keto Diet
There are many versions of this popular diet, that include:
Standard keto diet (SKD): This type of diet is a high-fat, moderate-protein, and low-carb diet. It usually contains 75% healthy fats, 20% protein and 5% carbs.
Cyclical keto diet (CKD): This diet includes cycles of higher-carb refeeds, like 5 keto diet days followed by the next 2 high-carb diet days.
Targeted keto diet (TKD): This type of diet allows people to add carbs, as per the requirement, around workouts.
High-protein keto diet: This one is similar to a standard keto diet (SKD), but includes a higher ratio of protein. The ratio is usually 60% fats, 35% protein & 5% carbs.
In all the above options, I would suggest you to go for the standard or high-protein keto diet as they have been studied in detail. Cyclical or targeted diets are experiments done to the standard keto diet and mainly used by athletes and bodybuilders. Therefore, the information contained in this article is mostly applicable to the standard keto diet (SKD).
What to Eat?
As discussed earlier, a Ketogenic diet is basically focused on healthy fats and protein in moderate amounts. Keeping the same in mind, I have mentioned a few foods here that you can consider if you are planning to follow a keto diet weight loss routine. You can easily customise a keto diet plan for women and men using these food options: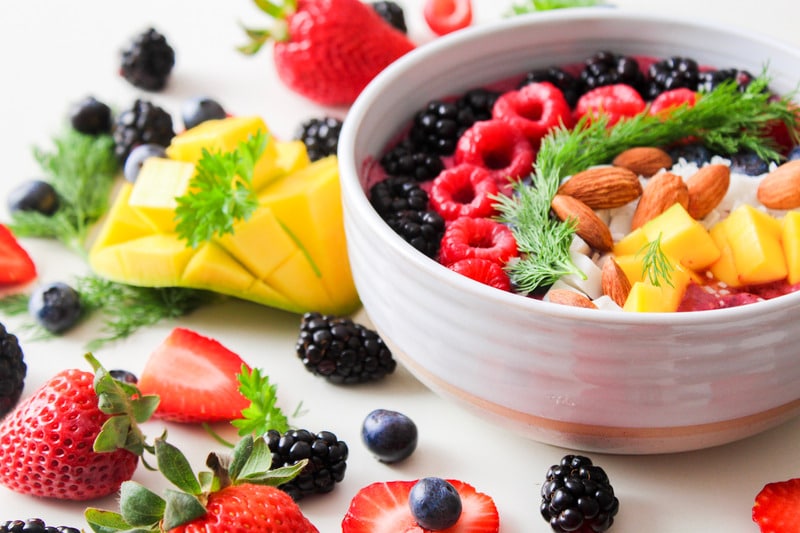 Eggs: You must add pastured, whole eggs to your diet as they contain good amounts of protein and fat. You will soon experience a positive change in your energy levels.
Fish: Fatty fish like salmon, tuna, and trout also make a great option when it comes to consuming healthy fats.
Meat: The next great option in the row is meat. To get your protein and fat intake, you can consume red meat, bacon, chicken, turkey etc.
Butter: Butter and cream are basically dairy products but they are great sources of fat. So, try adding butter and cream to your diet.
Cheese: You must prefer unprocessed cheese for keto recipes as it is healthier.
Nuts & Seeds: Nuts and seeds are also great sources of fat, and many other essential nutrients. Try adding nuts like almonds, cashews, and walnuts to your diet. You can also eat seeds like pumpkins seeds, flax seeds, chia seeds, etc. You can also use these nuts and seeds for making keto diet snacks.
Avocados: Fresh guacamole or whole avocados will be just perfect for keto diet recipes.
Healthy Oils: The best oils are avocado oil, coconut oil and extra virgin olive oil.
Herbs & Spices: You can also use a number of herbs & spices such as peppers, turmeric, salt, and more.
Low-carb Vegetables: Tomatoes, peppers, onions, and most of the green veggies are low in carb and can be added to a keto diet plan for men and women.
You can easily customise your own Ketogenic diet using the above food options. You can also follow popular celebs like Tim Tebow and Jenna Jameson who stick to keto diet for fitness.
They don't feel shy to share their diet secrets and you can easily find what they eat by simply putting keywords like 'tim tebow keto diet' and 'jenna jameson keto diet' on any of the popular search engines.
There are certain keto diet rules to be followed that include fat and protein ratios, elimination of sugar and foods rich in carbs. You can also add natural keto diet pills, which promote Ketosis, for better results.
What Not to Eat?
Any food item that is rich in carbs must be avoided or at least limited to 20-40 grams in a day.
Here I am sharing a complete list of food items that you must reduce, or completely eliminate if possible, while following a keto diet:
Unhealthy fats: Unhealthy fats such as processed vegetable oils and mayonnaise must not be consumed.
Alcohol: Due to being rich in carbs, many alcoholic drinks can create hassles in your ketosis journey.
Sugar-free foods: Sugar free products are highly processed, and should be avoided.
Sugary foods: Avoid all the sugary food items such as soda, cake, ice cream, fruit juice, smoothies, candy, etc.
Grains or starches: You should also eliminate pasta, cereal, wheat-based products, rice, etc.
Fruit: Almost all the fruits must be avoided, except berries such as strawberries in small portion.
Beans or legumes: You should also not eat peas, lentils, chickpeas, kidney beans, etc.
Root vegetables: Potatoes, sweet potatoes, parsnips, carrots, etc. are root veggies which you can't consume while following keto diet.
Low-fat products or diet products: These products are highly processed so must be avoided. They are often rich in carbs.
Sauces: Sauces contain high amounts of sugar and are loaded with unhealthy fat so you must avoid them as well.
One-week Keto Diet Meal Plan For Beginners Free
You must have seen 28 day keto diet meal plans over the internet that are too long to remember and look too lengthy which acts as a big turn-off. So, here, I have suggested a 7-day keto diet meal plan free for men and women. You can repeat the same one-week plan 4 times to make it a 28 day keto diet plan, or make changes in the below plan as per your calorie requirements with the help of a nutritionist.
The following plan makes sure that your carbs consumption stays below 50 grams in a day. To be noted, some people may need to reduce their carb intake even further up to 20-30 grams per day in order to achieve ketosis. Here, I have suggested an easy weekly menu for all who want to enjoy ketosis without compromising on their taste. We love food and nothing should stop us from doing that. So, here you go:
Day 1
Breakfast: You can eat cauliflower toast with lots of cheese and avocado for your breakfast.
Lunch: Try eating bunless salmon burgers with toppings of pesto for lunch.
Dinner: You can have meatballs and zucchini noodles with parmesan cheese for dinner.
Day 2
Breakfast: Try coconut milk chia pudding with the toppings of coconut and walnuts for breakfast.
Lunch: For lunch, you can have cobb salad made with veggies, turkey, hard-boiled eggs, avocado, and cheese.
Dinner: Have coconut chicken curry for dinner.
Day 3
Breakfast: Fry two eggs in pastured butter & eat with sauteed green veggies.
Lunch: Cook a bunless grass-fed burger with toppings of cheese, avocado, mushrooms and lots of green veggies.
Dinner: Eat pork chops and green beans cooked in coconut oil.
Day 4
Breakfast: Mushroom omelet will be perfect to start the day.
Lunch: Tuna salad and celery with tomato and a lot of greens will make a perfect lunch.
Dinner: Roasted chicken mixed with some cream sauce and broccoli will make a delicious dinner together.
Day 5
Breakfast: Take full-fat yogurt and top it with Keto granola to make a perfect keto diet.
Lunch: Cauliflower rice with steak bowl, herbs, avocado, salsa and cheese.
Dinner: Have bison steak and cheesy broccoli.
Day 6
Breakfast: Try baking avocado egg boats. You will get the recipe online.
Lunch: Caesar salad and chicken will be just perfect for lunch!
Dinner: Pork chops and vegetables will make a great dinner!
Day 7
Breakfast: Try stuffing bell pepper with cheese and eggs for your breakfast.
Lunch: You can try having arugula salad, avocado, hard-boiled eggs, roasted turkey, and blue cheese in your lunch.
Dinner: Eat grilled salmon and spinach cooked in coconut oil for dinner.
As I had mentioned above, ketogenic meals are not always boring. A little experiment will make it diverse, flavorful and healthy at the same time. Although many keto foods are prepared from animal products, you can still find a wide range of vegetarian food options to choose from.
Healthy Keto Snacks
Having some healthy snacks between meals will help suppress hunger and avoid overeating while following a keto diet plan. As the keto diet itself is so filling, it may not need more than one or two keto snacks in a day. Here are some great, keto-friendly options:
Guacamole and low-carb veggies
Hard-boiled eggs
Trail mix prepared with nuts, unsweetened coconut, and seeds
Coconut chips
Olives with sliced salami
Kale chips
Peppers and Celery with herbed cheese dip
Cheese roll-ups
Jerky
Berries with whipping cream
Parmesan crisps
Macadamia nuts
Avocado cocoa mousse
Keto smoothie prepared with cocoa, coconut milk, and avocado
All these keto snacks will maintain fullness throughout the day but they can also cause weight gain if consumed too much between the meals. You must eat moderate amount of snacks depending on your calorie requirements, weight loss goal, activity level, age and gender.
Final Thought
A healthy keto diet usually consists of 75% healthy fats, 20% protein and 5% of carbs. Focus on low-carb, high-fat foods such as eggs, and low-carb vegetables, sugar-free beverages, meats, dairy products, etc. You must avoid food products that are highly processed, or contain unhealthy fats. I wish you an enjoyable keto journey!